The Dread Pirate has arrived!
Please welcome to the world Nova Clementine Ramsey!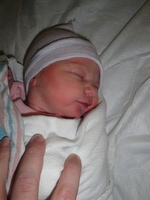 Click the photo for an enlarged version.

She was born at 2:42am on August 17th, 2009. She weighed in at 7 lbs. 0.8 oz. and is 18 inches long.
We're not quite sure what color her hair is yet, but we think she might be a redhead (we'll know for sure once we've bathed her). Her eyes are blue right now, but we think they'll change color eventually.
Kim was a real trooper. She was in labor for just over 30 hours. She was exhausted, but she kept at it and brought Nova out to us.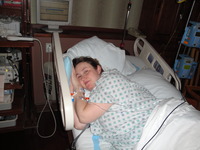 Don't let that sweet smile fool you... during
a contraction she can curse like a sailor.
When Nova first got here she was pretty tired, so she spent a little while just resting...
... but soon she was visiting with Mommy and Daddy.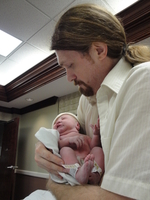 Daddy is still not used to holding
Nova, so he looks about as graceful
as an orangutan in a wedding dress.

Mimi came by to visit around lunchtime.
Later on some friends came by. Kelly came by first.
She brought some beautiful flowers and a really big balloon!
Not long after that Kaela came by to see us.
Pepper had a little trouble finding the hospital, but he eventually got there.
Then Nova slept for a little while.
The next day we finally all got to go home. First Nova got all dolled up in the outfit her Mommy knitted for her...
... and then we all drove home. Here's Nova arriving home in her Mommy's arms...
... and then lying in Daddy's for a while.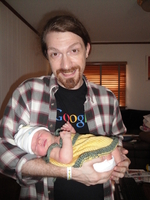 Daddy looks like he might have finally
figured out this holding a tiny baby
thing now.
She was greeted, appropriately enough, by a baby chorus line.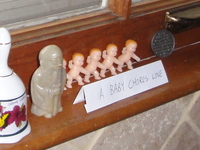 OK, OK... so these were just some party favors
left over from the baby shower, but a girl can
dream, eh?
She didn't appear too excited about her new bedroom... she just yawned when she saw it and settled down for a nap.