Nova's First Christmas
With Nova's first Christmas approaching Nova did the things that any kid does before Christmas. Notably, she went to see Santa at the mall...
... and dressed like a reindeer.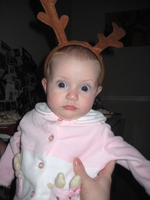 Nova doesn't do this every day...
she was over at Jack's house, so
maybe she was just trying to impress
him.
On Christmas Eve Mommy and Daddy put Nova to bed and went about making sure the house was ready for Santa's visit. Just as they were crawling into bed Nova awoke and needed to nurse. Before we knew it we were all dashing to the ER to get pictures of Daddy's insides. He was full of rocks! After his pretty pictures we all went home to try and get some sleep before we got up to see what Santa had brought us. It was quite a display!
Before we could open presents we had to get our socks on. No present opening until we're dressed!
Hurry up, Mommy... there's a lot of presents
to be opened!
Too... many... presents. Present... overload!

Nova had lots of presents under the tree. Here she is opening her first one, Rainbow Baby Clover.
Among the gifts Nova received were a squishy ball, some new books, a Christmas ornament, and a swing.
Nova also got a crazy book called Cowboy and Octopus from Mommy. Here is Mommy reading the inscription to her.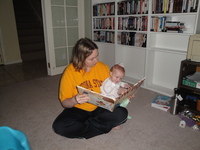 The inscription reads: "Dear Nova, May your
life be full of unique and wonderful friendships.
And beans. --All my love, Mom"
Gamma sent a box of goodies for Nova to open on Christmas morning. Here she is with her very first baby doll.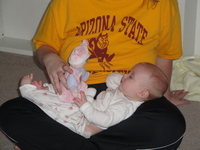 While Nova is distracted by the baby doll the
Arizona State devil is about to stab her in the
face with his pitchfork. WATCH OUT, NOVA!
After opening presents Nova, Mommy, and Daddy relaxed and played. Here Nova is sporting a Bowhawk, sure to be a fashion hit on all the spring runways.
Here Daddy and Nova play together on Nova's crocheted star blanket.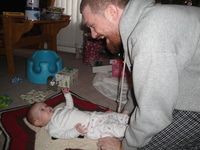 Nova's star blanket was a gift from mommy's friend
Amy.
Right around Christmas Nova hit another milestone... eating solid foods. On Christmas Eve Nova started with bananas (still one of her favorites to this day).
I'll just have a little nibble right now.
Here Nova is attempting to eat a giant banana
from the Amazon. These Amazonian bananas can
grow to be seven feet long.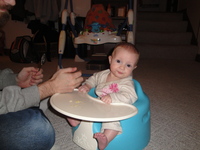 Nova was asked, " Do you think you can you
handle eating like this?" This look was
her only response.
It was a good thing Nova learned to eat solid food, because Christmas dinner at Grandpa's was a veritable smorgasboard! Nova broadened her palate to accomodate mashed potatoes there.
She also got some good Grandpa time (which Grandpa enjoyed as well).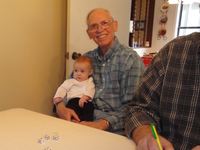 Grandpa attempts to unfairly use Nova to his
advantage as a good luck charm while playing
Farkle. He still lost.
Shortly afterwards Mimi and Uncle Geezy came over to celebrate Christmas. Nova got some wonderful gifts from them, including her own stuffed Uga and a bedtime seahorse that plays music. Nova really likes the seahorse, and has even learned to turn the music on and off by herself.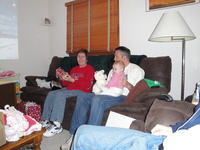 Daddy was remiss, so this is the only picture
we have of Mimi and Geezy at Christmas. You can
see Mimi opening one of her Christmas presents
and Uga about to viciously maul Nova (although
he ended up getting the worst part of that bargain
in the end).
After Christmas Nova started in on feeding FOR REALZ! One of the first things she tried after bananas and mashed potatoes was oatmeal.
She liked it.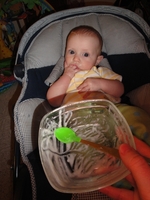 We had to stop her from licking the
bowl clean... this time!
One of the next things she tried was apples. We tried to get really sweet apples, but they apparently weren't sweet enough.
In retrospect it might have been a bit early
for apples.
After the apples disaster we went back to bananas. Nova liked eating bananas on her own with the Baby Safe Feeder, but she was still a little too uncoordinated to manage it entirely on her own.
Gamma and Miss Martha came to visit not long after the New Year, and boy did Gamma have fun with Nova! She got to feed her...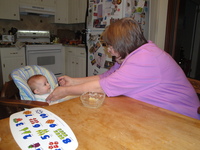 Gamma spoons in the Mystery Mush.
She got to play with her...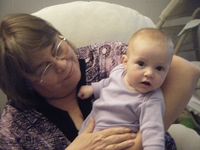 Photo courtesy of Miss Martha.
... and she got to teach her some new tricks. Nova has been repeating this trick ever since Gamma's visit, to Mommy and Daddy's great amusement.
Here's Gamma playing with Nova and her Musical Bird, which was a gift from her cousin Kendrick.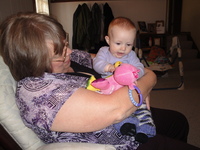 Eat your heart out, Cousin Kendrick!
Shortly after Gamma and Miss Martha left Nova got to see her first snow. She wasn't quite sure what was going on, but she was sure excited about it!
Of course, there were lots of events that weren't of any special note where Nova had opportunities to look cute. She played on her Johnny Jump Up...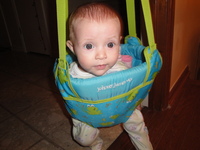 Daddy had one of these as a baby and loved jumping
in it.
... visited with friends...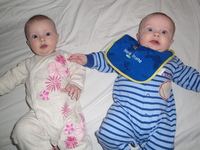 Nova and MJ, looking like they're up to no good.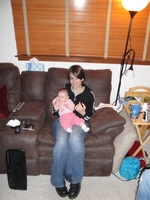 Andrea and Nathan have come by a
couple of times to sit with Nova.

.. and just sat around taking it easy.